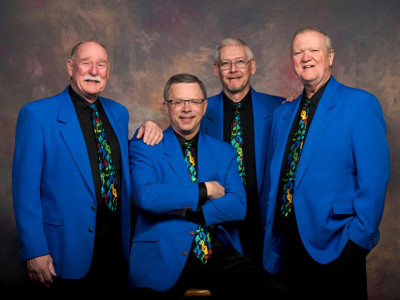 Social Insecurity is a very popular group that sings a wide variety of music. Consider hiring Social Insecurity for your next event.
Faces
Kevin Stephens - Baritone
Kevin has been singing barbershop for many years in our area. His Bari voice is always a great addition to a quartet sound.
Marty Anderson - Bass
Marty has been singing bass since high school. He sang 20 years in the Air Force, started barbershopping in 1997 and most recently sang bass with the quartet "After Five".
Bob Martindale - Lead
Bob has been singing since the age of 2. He has been barbershopping for the last 10 years, spending 6 years as lead of the comedy quartet "McKenzie Touring Company".
Gary Raze - Tenor
Gary sang for many years as tenor in the comedy quartet "McKenzie Touring Company". He currently sings tenor with the 2000 International Seniors Champion quartet "Overtime".
Find out more
Some video, additional photos and upcoming performances of this group can be found at their Facebook page HERE
You can contact Social Insecurity through Bob Martindale by phone at 541-942-0489 or 541-729-0283. You may also fill out the contact page.
Awards and Achievements:
First place in the Senior Division at the Evergreen District contest in Whistler, BC.