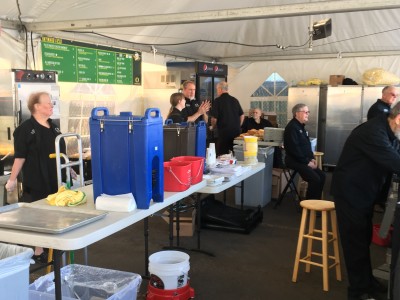 Yesterday ended our operating in a tent as a concession site at historic Hayward Field. Whatever the new iteration of Hayward looks like, concessions will have permanent booths, not a tent. Rain will no longer create rivers running through the booth nor lakes at the front entrance.
The NCAA's called for more workers than we can provide. Thank goodness for the Greater Eugene Chapter of Sweet Adelines and our brother chapter Oregon Senateaires from Salem. Without them, we could not do the job.
So special thanks to Lisa, Lucy, Darrin, Brewster (wrap them dogs), Ken, Len, Karen and Terry. They shared the last day with us. Each chapter gave us more folk to assist during the other 3 days of events. Great fun, great friends, spectacular work ethic. Our thanks to each and every one of you.
Photo above was taken Thursday. Friday and Saturday blessed us with Oregon sunshine and a work load that did not give us time for a photo op.
We now get a year (minimum) off track work. But you will find us at football, and possibly baseball and softball. We even get an occasional request for the not sport event.
Yes, I refer to the arrival of Dead and Company at Autzen Stadium June 30. Terrible timing, because it means many Cascade members do not get a weekend off in the month of June. Just one of the challenges of living the life of a popular concessionaire.
Until we meet again.