Maybe not the end, but the end is near. We worked the Oregon Twilight meet Friday (May 4) with the usual, and some unusual bumps in the road.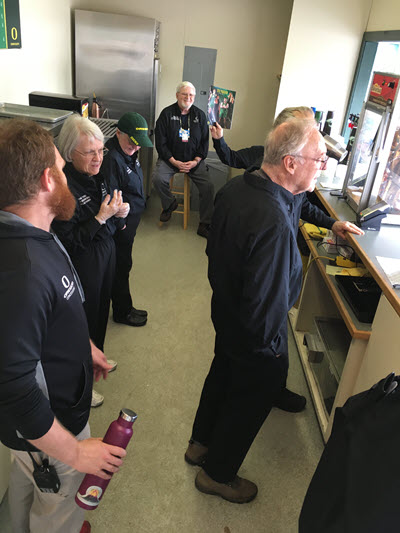 As you can see, this is a small booth. You must be friends to work here. The usual faces can be found-John Hicks assigned to cooking. He discovered that part of the hot dog cooker was not working, and was challenged to keep enough dogs and sausage available during the usual afternoon rush. Guinn is at his usual position by the soda machine. For those who may not recognize her in a hat, that's Judy Perlman. Yes, she and Dave drove down from Corvallis to assist us. Dave is hiding, but Dave's Nacho's was a popular item on our menu.
The guy you do not recognize is the University employee they assigned to us this day. Tim made sure we never had to leave the booth to care for the condiments. He also discovered, toward the end of the day, thank goodness, we had a "freeze-up". Strange, but true, the Carbon Dioxide canister that was propelling the soda managed to create "snow" at the register. That cut off the gas and put us out of the soda business for the rest of the day. Gatorade (and water) to the rescue.
We are looking forward to the day in 2020 when we walk into the newest iteration of Hayward Field and into brand new digs for concessions.
Meanwhile, for 2018, we may still run H-1 as a secondary location for large meets. And we will be in our usual location at H-4, the tent by entrance 8. Come by and say Hi. If you're bored, we'll look for a shirt your size and put you to work.