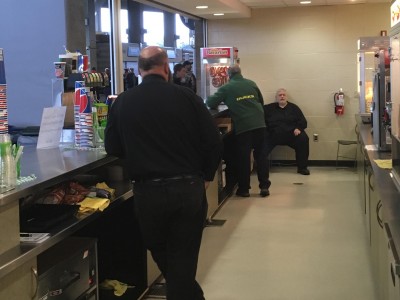 Willamette Valley Youth Football and Cheer (WVYFC) held their 2017 Oregon State Championships at Autzen Stadium last weekend. Cascade Chorus was invited to operate the food booth for this event. We were pleased to serve.
From Friday at 1PM thru Sunday at 10:45PM 27 football games were played. We sold our normal fare: Hot dogs, pretzels, soda, coffee, nachos, popcorn, and the list goes on.
We would work hard during game changes and half-times. Then have periods of less vigorous activity.
Above you see Roy and Scotty awaiting that next order. Me? Well as you would expect, I'm protecting the money.
I would tell you the tragic story of spraining my right little toe, but you probably wouldn't believe me, since I'm so light on my feet.
November 4 we are back at Autzen to feed the people attending the Festival of Bands. I think I'll move my chair to the other side of the room so I'm not in Rich's next photo.
If you're listening to a band, come by and say Hi. We are in booth A29. Ask us, we do know where the restrooms are.