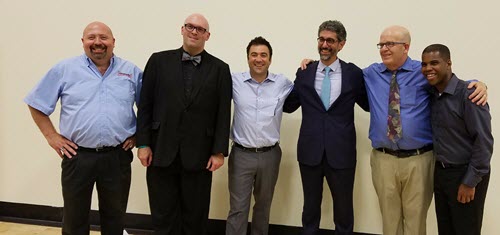 Directors of the choirs at this years Boys & Young Men's Choral Festival
The Pacific International Choral Festivals (picfest) presents a series of choral gatherings in cooperation with the Oregon Bach Festival. Odd years, such as 2017, include the Treble Choral Festival and the Boys & Young Men's Choral Festival (up to age 18). Even years are Youth Choral Festival and the Young Women's Choral Festival.
The 2017 Festival Chorus featured Cincinnati Boychoir, St. John's Boys' Choir, Oregon Boychoir and Young Men's Ensemble, Young Naperville Singers Ragazzi and Canto Vivo, along with the Festival Players and a rousing finale collaboration with Eugene's Cascade Chorus.
picfest is intentionally noncompetitive, with emphasis on the highest level of musical artistry, collaboration and building friendships that carry on long after the festival week. Choirs are selected through an application process that includes recorded performances, recent programming history and other supporting materials. Space is limited to 300 singers, so the only competition is in being one of the choirs invited to participate. This year they (and Cascade) had the pleasure of singing under the direction of Guest Conductor Fernando Malvar-Ruiz.
For the finale, they wanted a full range of male singers. Artistic Director Peter Robb invited Cascade Chorus to provide the more mature male voices (most of us are a bit over 18). We were pleased to be a part of the rehearsal and the recent performance. We even let Coby sing.
This is the 20th year for picfest. Cascade Chorus was proud to be invited to participate.
The photo below shows Cascade, with all the other choirs, in the finale.

Thanks for thinking of us, Peter. We're here should you need us again.