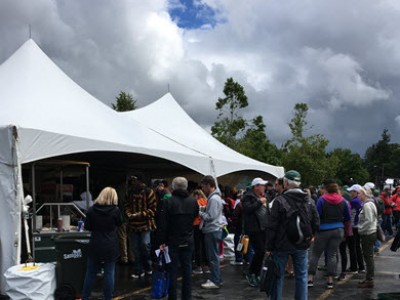 It was truly special. The UO women won the triple crown of titles – NCAA cross country, NCAA indoor and NCAA outdoor. The first time ever by a women's track and field program. And we were there.
However, we SAW none of it. Check out the photo of our concessions booth. Once the lines started they never ended. We moved hundreds of hot dogs, burgers, Vegan burgers WITH CHEESE (don't ask), gallons of soda, huge containers of popcorn, coffee, hot chocolate (look at the sky). It was a long but rewarding day.
This was our last day of the track season. When the U of O invited us to operate the booth at the track meets, we were excited. It has been great. The UO concessions staff were wonderful to work with. We must thank the Oregon SenateAires of Salem who sent us workers to assist on days when we didn't have enough bodies. And special thanks to our very good friends that sing with the Greater Eugene chapter of Sweet Adelines. They went the extra mile in providing almost complete staffing for Thursday so we could sing at Lowell High School, and helping on many other days.
We've swept our last piece of asphalt, cooked our last sausage, Rich and Mary have done the last inventory. We now rest until the football season starts and we work in our Autzen stadium booth.
Come visit-there's a hot dog with your name on it.